| | | |
| --- | --- | --- |
|   Electronic City | Kits | Page # 3   |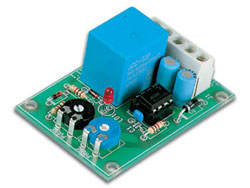 Model MK111 Interval Timer Kit
For intermittent operation of circuits and equipment. Blinking light, video/photo single frame shooting, slide projector control, miniature models.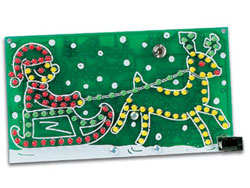 Model MK116 Riding Santa LED Kit
126 LED multicolor animated Xmas gadget. No need to remove battery when using external supply. 12V operation possible for use in cars, trucks. On/off switch included.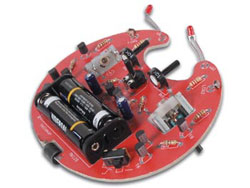 Model MK129 Crawling Microbug Kit
Attractive bright colored bug-shaped miniature robot. The microbug is always hungry for light, it drives towards it.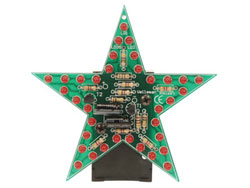 Model MK169R Flashing Red LED Star Kit
* great seasonal gadget !
* safe battery operation
* select: flashing or static operation
* application: desktop or hanging from the ceiling
* several units enhance the effect
* in-car (12V) operation possible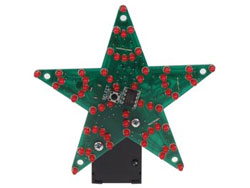 Model MK170 60 LED Star Kit
* processor-controlled LED star creating multiple dazzling effects
* extra LEDs included, allowing different colour combinations: make your own mix of red and yellow LED's or make the star fully red or yellow
* on-board effect selection push button
* 24 effects
o 3 static o 15 blinking o 6 animations with fading
* "All effects" sequencing is possible (standard setting)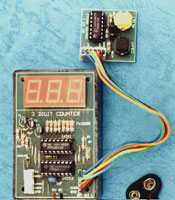 Model 80-010 Three Digit Counter Kit
An event counter, this economical counter module may be ganged for six or nine digits. Has count and reset switches with debounce built-in. Operates on a nine volt battery. This is a two board kit with the count and reset switches along with the d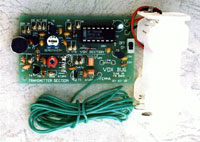 Model 80-065 FM Transmitter Wireless Mic Kit
This is the "Cadillac" of FM transmitters, and wireless mics. Transmits in the standard FM radio band; tune to open frequency. Varactor tuning results in stable signal, free from stray capacitance and drifting. Sensitive, picks up conversati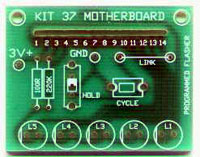 Model 80-375 5 LED Multi-Sequential Flasher Kit
Flashes five, very bright LED's in any one of seven, user selectable patterns. A chip-on-board IC makes assembly very easy; the chip is supplied premounted on its own board and a motherboard contains the entire circuit. Operates on 3 volts D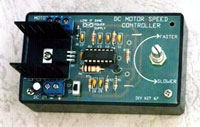 Model 80-670 DC Motor Speed Controller Kit
Vary the speed of DC motors the very best way with this kit. Gear boxes can be costly and series resistors may cause stalling. This circuitry delivers the voltage to the motor with pulses and the speed is controlled via pulse width modulation (PWM).

Model MK107 LED Running Kit
8 LEDs. Different LED running effects are selectable (PROG push button). Adjustable effect speed (SPEED potentiometer). Power stand-by push button (OFF push button)


<!img src='/shopping/images2/rular.gif' width='100%' height=6 >

All information contained on this web site is Copyright 1997- 2013 Electronic City, Inc.
Some images, logos or wording may also be copyrighted / trademarked by the respective owners. No material on this site may be used without the written permission of Electronic City, Inc. Prices subject to change without notice.
Disclaimer: Electroniccity.com attempts to be as accurate as possible. However, Electroniccity.com does not warrant that product descriptions or other content of this site is accurate, complete, reliable, current, or error-free. If a product offered by Electroniccity.com itself is not as described, your sole remedy is to return it in unused condition.
Home • Directions • Contact US • Links • Visitors: 1206377 • 12/12/2013 4:14:06 AM